Digital photography is one of the best things to happen to parents who are documenting their children's formative years. No longer do you have to pay for film and photo developing, and wait days or weeks to see how your shots turned out. Today you can snap as many photos as you want, get almost instant feedback, and even share all of your photos wirelessly with your friends and family. However, sometimes the question comes up of just what to do with all of those digital photos. Without prints, you don't have anything to hold in your hands and put in your photo albums. If you've been looking for ways to create tangible keepsakes from your family photos, today's giveaway is for you!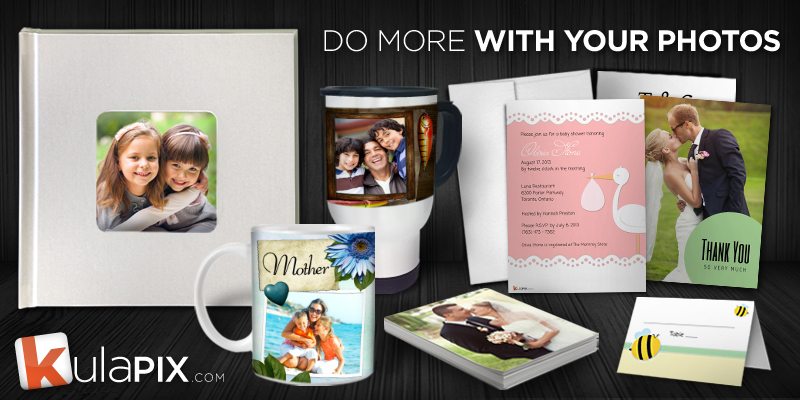 Scrapbooking Taken to a Whole New Level
TorontoMomNow.com is teaming up with Kulapix.com, a fun and easy website where you create personalized photobooks, calendars, photo gifts, cards, invitations and a whole lot more. The Kulapix builder allows quick, auto-filled projects that you can complete in minutes. You'll find professionally-designed layouts, art, borders, backgrounds and themes. If you want to get more creative, you can create your project manually with endless possibilities. It's scrapbooking taken to a whole new level, allowing you to enhance your valuable memories, and share them with your friends and family.
In this giveaway, three lucky winners will receive a $50 credit to use at Kulapix.com. It's up to you which products you buy if you win! So how do you enter? Keep reading for all the details.
How to Enter
Mandatory entry:
Fill out this form to enter. Note that you will be subscribed to our mail list. For an extra, optional entry, tick the box and subscribe to Kulapix.com's email list as well:
Contest Rules for the Kulapix Giveaway
[unordered_list style="bullet"]
Contest runs until August 11, 2013 at 11:59pm.
You may only enter once using each method.
The winner will be selected and contacted by email. If the winner doesn't claim the prize within 48 hours, another name will be selected.
[/unordered_list]
Good luck!
Kulapix