Whether you call them goodie bags, loot bags, grab bags or something else, for many kids that little bag full of toys and treats is the best part of being invited to a classmate's birthday party. My own children still speak in hushed tones about some of the best goodie bags they've ever received. If you're the parent throwing the party, however, pulling together the perfect giveaway for your young guests can be more than a little stressful. And if you're the parent of a child attending the party, having your little one bring home a bag full of sugary treats may not exactly fill you with joy.
Surely there has to be a way to keep everyone happy, right? We think there is – and it lies in finding a great alternative to the traditional goodie bag. Today we're sharing four of our favourite ideas.
Four Alteratives to the Traditional Birthday Party Goodie Bag
1. Get Crafty
We love this goodie bag alternative because it also does double-duty as a great birthday party activity. Organize a craft for the kids to do at the party, which they can then take home as their party loot. The craft options are endless. One easy idea is to decorate fabric with fabric markers and fabric paints. The 'fabric' you decorate can be a plain T-shirt, a simple canvas tote, a scarf, an apron … you get the idea. You can also find simple, affordable, unpainted wooden items at many craft stores that you can paint and decorate, from fairy wands to birdhouses to big block letters. If you need help coming up with even more ideas, stop by Pinterest – just don't blame us if you end up wasting hours perusing all the gorgeous craft ideas!
2. Make it Look Official
Kids love to have their achievements recognized. To help them feel like they've really accomplished something at your birthday party, make up official-looking certificates to hand out to each child at the end. Use the theme of the party to help you decide what to print: for a gymnastics party, say that the child has mastered new gymnastics moves; for an art party, recognize the child's artistic abilities; for a basic birthday party state that the guest has helped the birthday child to usher in his or her new year. To add a personal touch have the birthday child sign each certificate. If the birthday child is too young, they can leave a fingerprint or a hand print. Kids also love to see their own photo, so if you can quickly snap some photos of each guest as they arrive and print them during the party, you can add that to the certificate.
3. A Personal Treat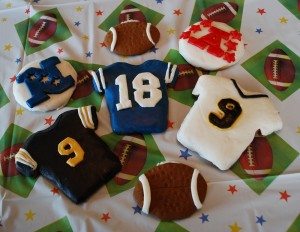 A great alternative to a candy-filled goodie bag is to provide a decorated cookie or cupcake. You can find some fabulous decorated baked goods at bakeries, if you're not up to the task of baking. Some bakeries will even deliver. You can find cookies or cupcakes to match your theme, and you may be able to work out a package deal with the birthday cake. Or else you can bake sugar cookies or cupcakes – or buy undecorated cookies or cupcakes – and have the party guests decorate them to bring home. Yes, it's sugary, but it's a lot less sugar than you'll find in a traditional goodie bag.
4. Books or Toys
At first blush, buying a book or slightly better-quality toy for each child may sound really expensive. However, after you add up the cost of all the little items included in a goodie bag, you may be surprised to find that springing for a small stuffed animal for each guest is actually more affordable. Plus, by buying one better-quality item instead of a bunch of cheaply-made items, you're increasing the odds that your giveaway item will actually survive the car ride home (and maybe even longer). To decrease the cost, look for toys and books bundled together – think of those book orders your kids bring home from school that sell 10 books for $11.99. Tie the book or toy in with the birthday party theme and age of the kids, and think about what's popular with your child's friends at the moment.
What about you – what are your favourite goodie bag alternatives when you're throwing a kids birthday party?